BORDER QUIPU // QUIPU FRONTERIZO
Including the largest land border crossing in the world, the US/Mexico border can be seen by some as the perimeter of Latin America, the edge of Mexico, Central and South America. The point at which 300,000 of our identities and histories are checked every day.
Expanding on this notion using a quipu, the Andean Pre-Columbian organizational system of recording history, as a framework to record the daily migrations to the north, Tanya Aguiñiga initiated Quipu Fronterizo/Border Quipu for her segment of AMBOS.
Quipu Fronterizo/Border Quipu engages US/Mexico border commuters on both sides of the border by asking about their experiences and asking them to anonymously tie a knot. The AMBOS team walks among the cars in traffic, pedestrians waiting in line, and surrounding areas of the crossing asking for participation in an art project that focuses on the lives of those who cross the border and/or live in the borderlands. Postcards that read "¿Qué piensas cuando cruzas esta frontera? / What are your thoughts when you cross this border?" are passed out with pencils for participants to record their thoughts in the space provided. All of those who work or live along the border are invited to participate, and asked what they think if they can cross the border, and if not, their opinions on living there. On the opposite side of the postcard, there is a explanation of the exercise for the quipu that we create with the help of participants. Commuters are given two strands of thread and asked to tie them into a knot reflecting their time and emotions spent crossing. The strands represent the US and Mexico's relationship to one another, our self at either sides of the border, and our own mental state at the point of crossing.
Each knot is collected from commuters and tied to other knots made on the same day. The cumulative series of daily bundled knots is organized into a large-scale quipu and, for the first series of AMBOS in 2016, was displayed on a billboard above the AMBOS storefront hub in view of traffic waiting to cross the border. Quipu Fronterizo/Border Quipu seeks to materialize our connection to one another as a community and make our presence and experiences visible to bi-national audiences.
Currently, the quipu includes 8 columns of knots collected initially at the San Ysidro border crossing in Tijuana. The next five columns were collected and added during the AMBOS road trip in September of 2017, when the AMBOS team travelled to every border crossing from Arizona to the western border of Texas, totalling 18 crossings visited. The Quipu Fronterizo/Border Quipu will be completed in 2018, after the final road trip when the AMBOS team will have visited all the crossings remaining in California and Texas. By bringing Quipu Fronterizo/Border Quipu to all of these crossings, Tanya Aguiñiga, alongside the AMBOS team, will have completed the first exhaustive survey of collective emotion along the US/Mexico border.
Incluyendo el cruce fronterizo más grande del mundo, la frontera de México/EUA es considerada por algunos el perímetro de Latinoamérica, el límite de México, Centroamérica y Sudamérica. El punto en donde 300,000 de nuestras identidades e historias son revisadas a diario.
Expandiendo este concepto usando un quipu, el sistema Andino Pre-Colombino de organización, como el marco para documentar las migraciones diarias al norte, Tanya Aguiñiga inició Quipu Fronterizo/Border Quipu para su segmento de AMBOS.
Quipu Fronterizo/Border Quipu aborda a viajantes de la frontera EUA/México en ambos lados de la frontera acerca de sus experiencias, pidiéndoles que anónimamente aten un nudo. El equipo de AMBOS camina entre los carros parados en el tráfico de espera, peatones esperando en línea, y las áreas vecinas al cruce fronterizo, pidiendo la participación en un proyecto de arte cuyo enfoque es la vida de aquellos que cruzan la frontera diariamente o viven en el área fronteriza. Postales con las preguntas "¿Qué piensas cuando cruzas esta frontera? / What are your thoughts when you cross this border?" son distribuidas junto con lápices a los participantes para que anoten sus pensamientos en el espacio proporcionado. Todos aquellos que viven o trabajan a lado de la frontera son invitados a participar, y son preguntados que piensan si pueden cruzar la frontera, y si no, sus opiniones acerca de vivir ahí. Del otro lado de la postal, hay una explicación acerca del quipu que será creado con la ayuda de los participantes. Los viajantes son proporcionados con dos cuerdas y se les pide hacer un nudo que represente una reflexión acerca de su tiempo y emociones mientras cruzan. Las cuerdas representan la relación entre México y Estados Unidos, nosotros mismos en ambos lados de la frontera, y nuestro estado mental al punto de cruzar.
Cada nudo es recolectado de los viajantes y unido a otros nudos hechos el mismo día. La acumulación de los nudos diarios es organizada en un quipu a gran escala, y para la primera serie de AMBOS en el 2016, fue mostrado en un espectacular arriba de la base de AMBOS en plena vista del tráfico esperando a cruzar la frontera. Quipu Fronterizo/Border Quipu busca materializar nuestra conexión con uno a otro como comunidad y hacer nuestra presencia y experiencias visibles a audiencias binacionales.
Actualmente, el quipu incluye 8 columnas de nudos recolectados inicialmente en la Garita Internacional de San Ysidro en Tijuana. Las próximas 5 columnas fueron agregadas durante el viaje de AMBOS en Septiembre del 2017, cuando el equipo de AMBOS viajó desde Arizona hasta la frontera Oeste de Texas, completando 18 cruces. El Quipu Fronterizo/Border Quipu será completado en el 2018, cuando el equipo de AMBOS completará los cruces faltantes en California y Texas. Al llevar Quipu Fronterizo/Border Quipu a todos esos cruces, Tanya Aguiñiga, junto con el equipo de AMBOS, completará la primera encuesta exhaustiva de sentimientos a lo largo de la frontera de México/EUA.
Crossings included:
Tijuana, BC // San Diego, CA   |   Tecate, BC // Tecate, CA   |   Mexicali, BC // Calexico, CA   |   Nogales, SO // Nogales, AZ   |   Agua Prieta, SO // Douglas, AZ   |   Puerto Palomas, CH // Columbus, NM   |   Ciudad Juárez, El Paso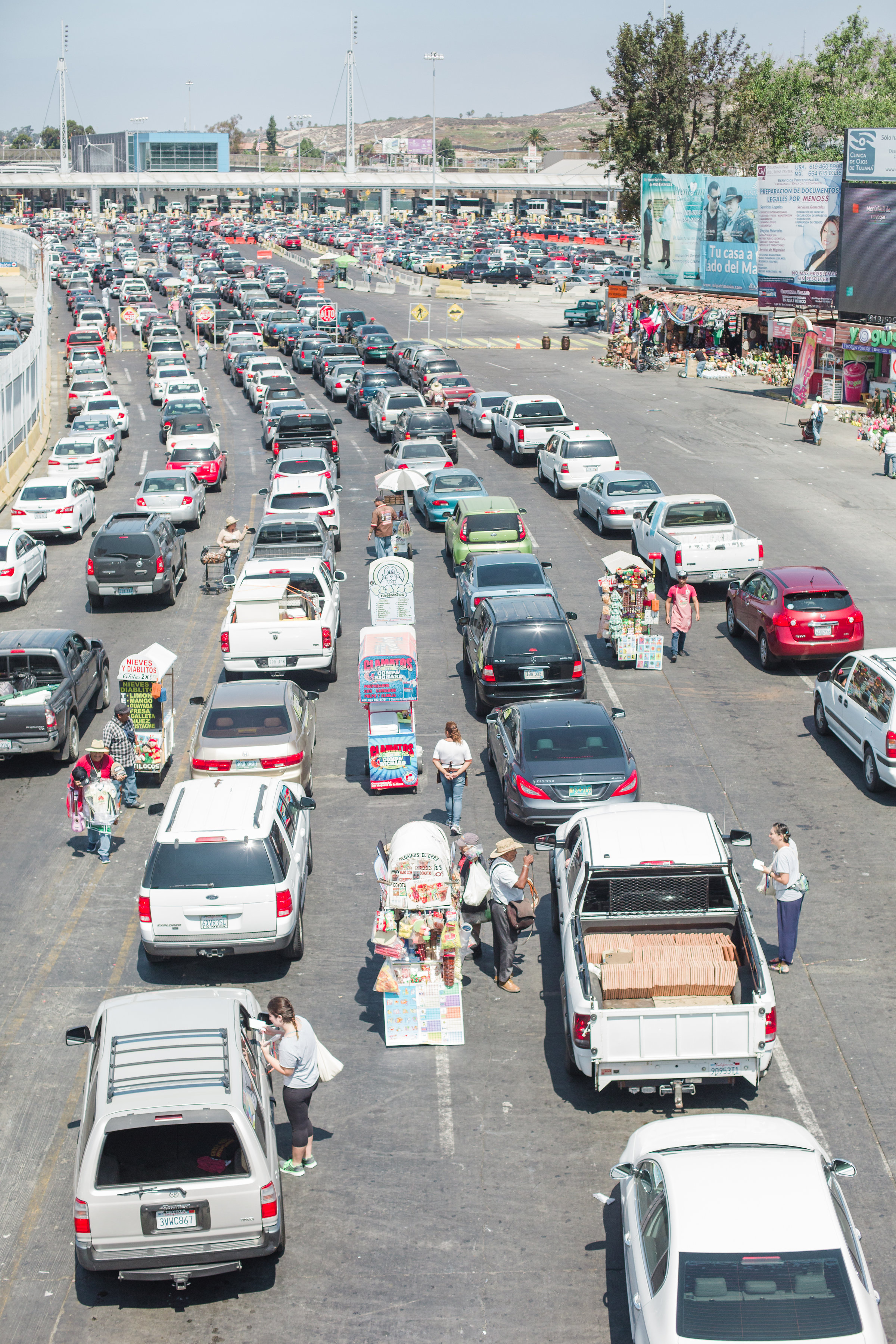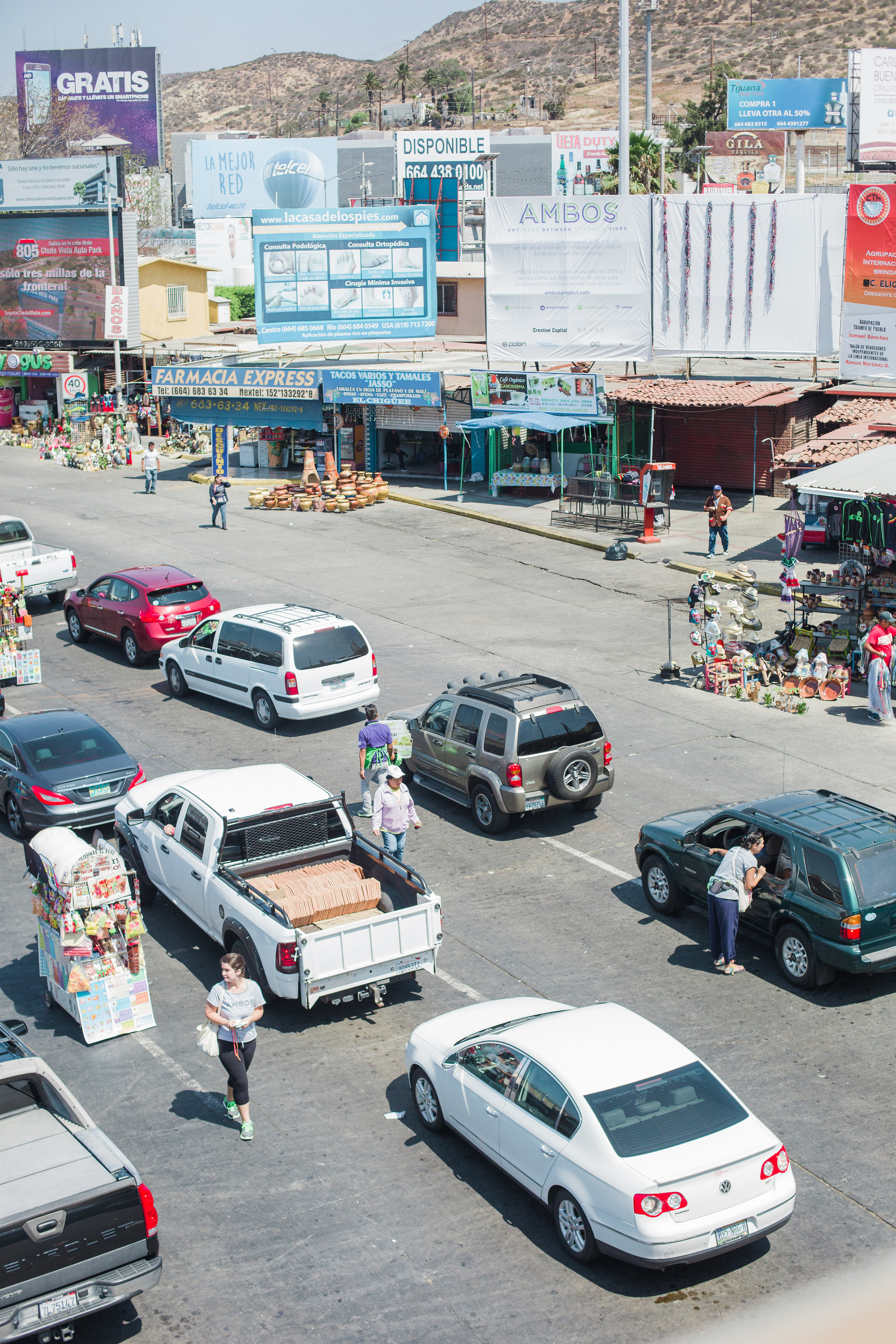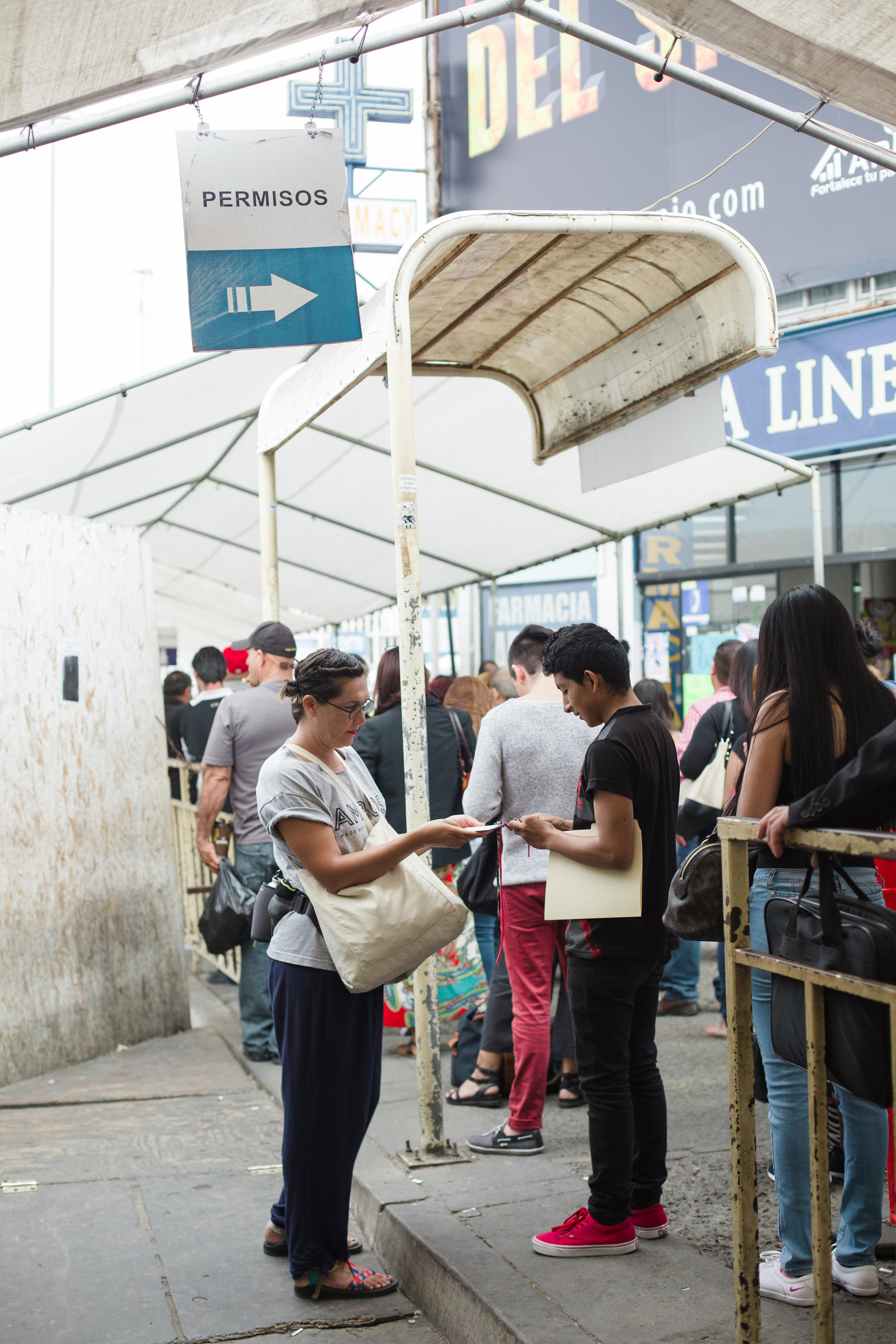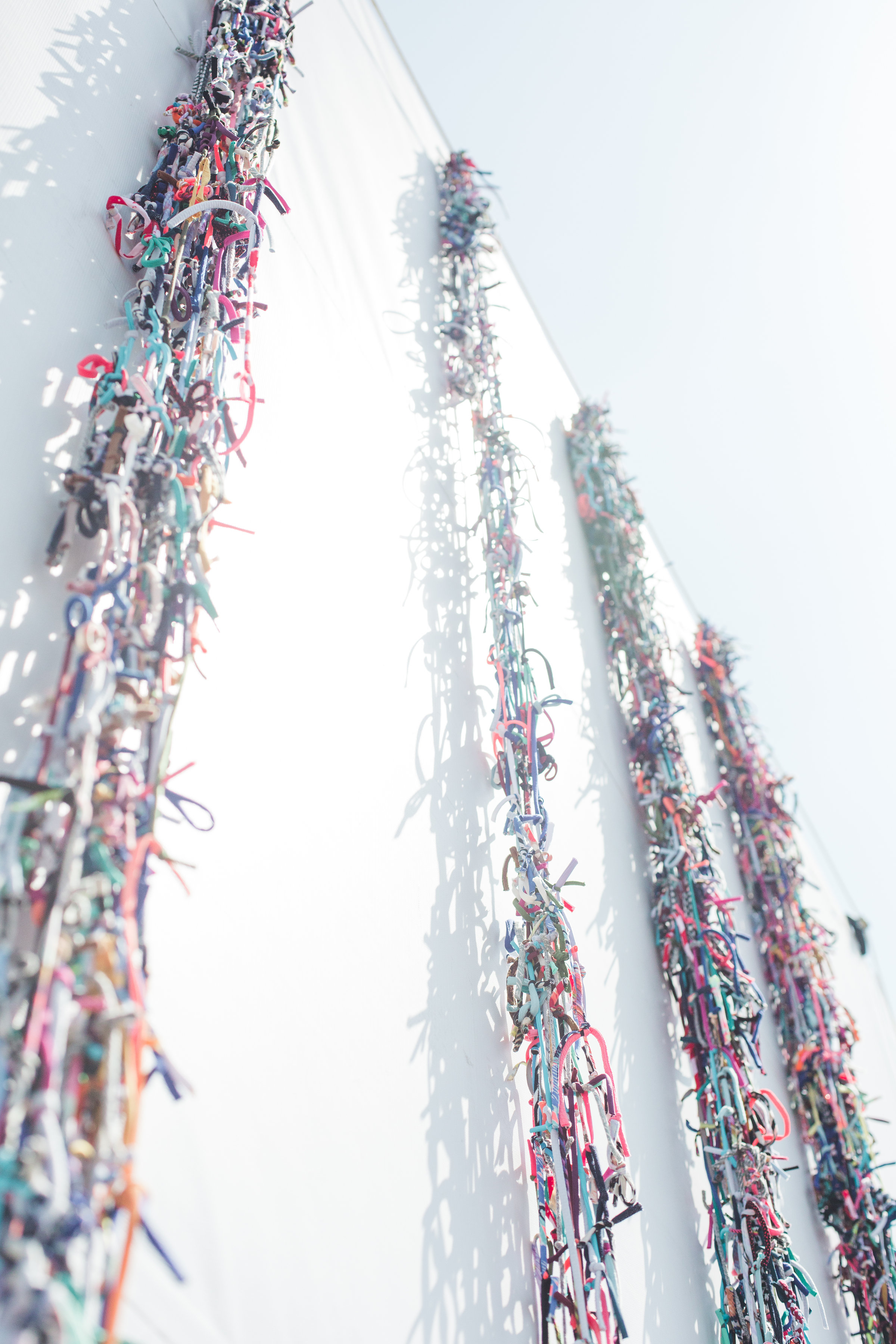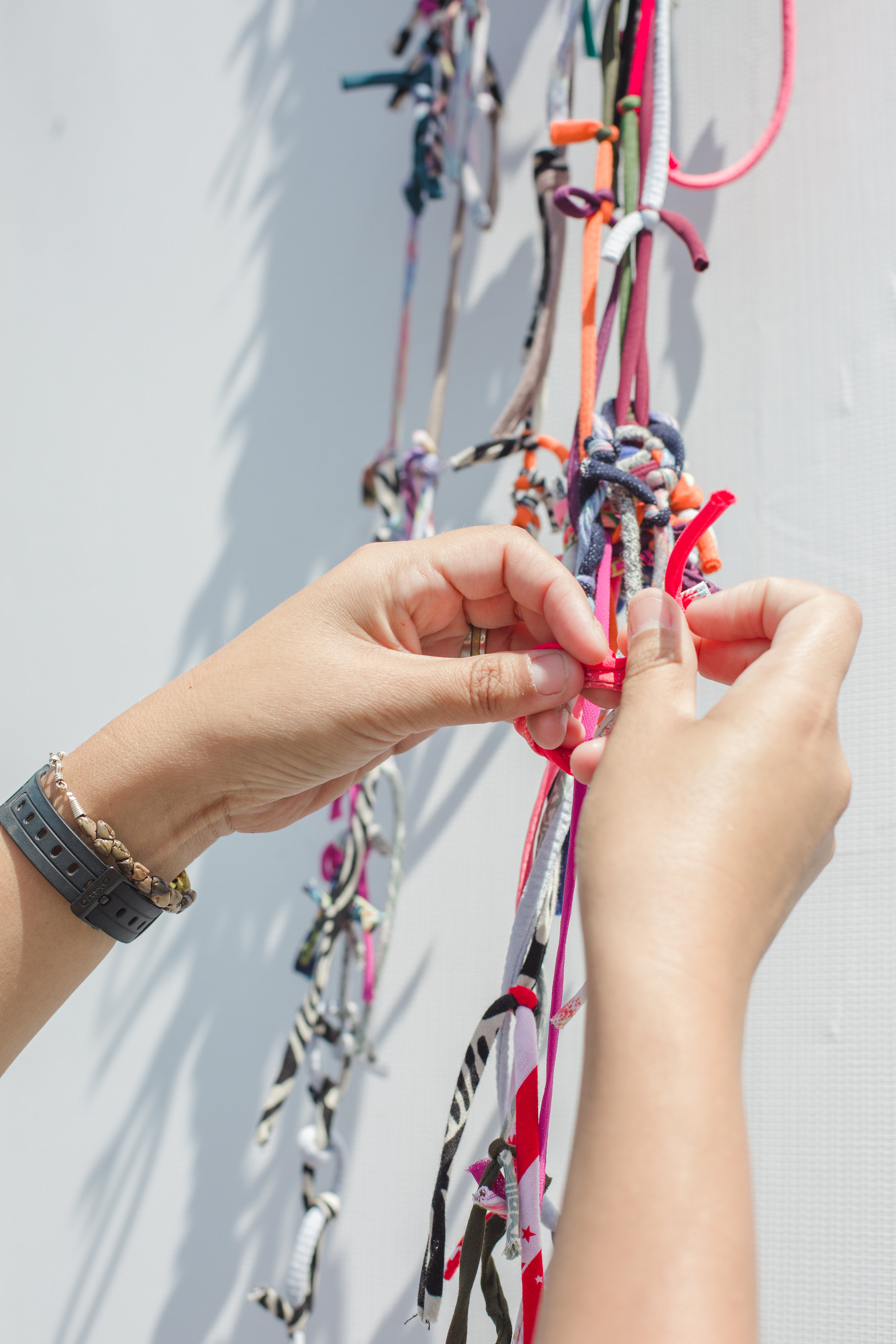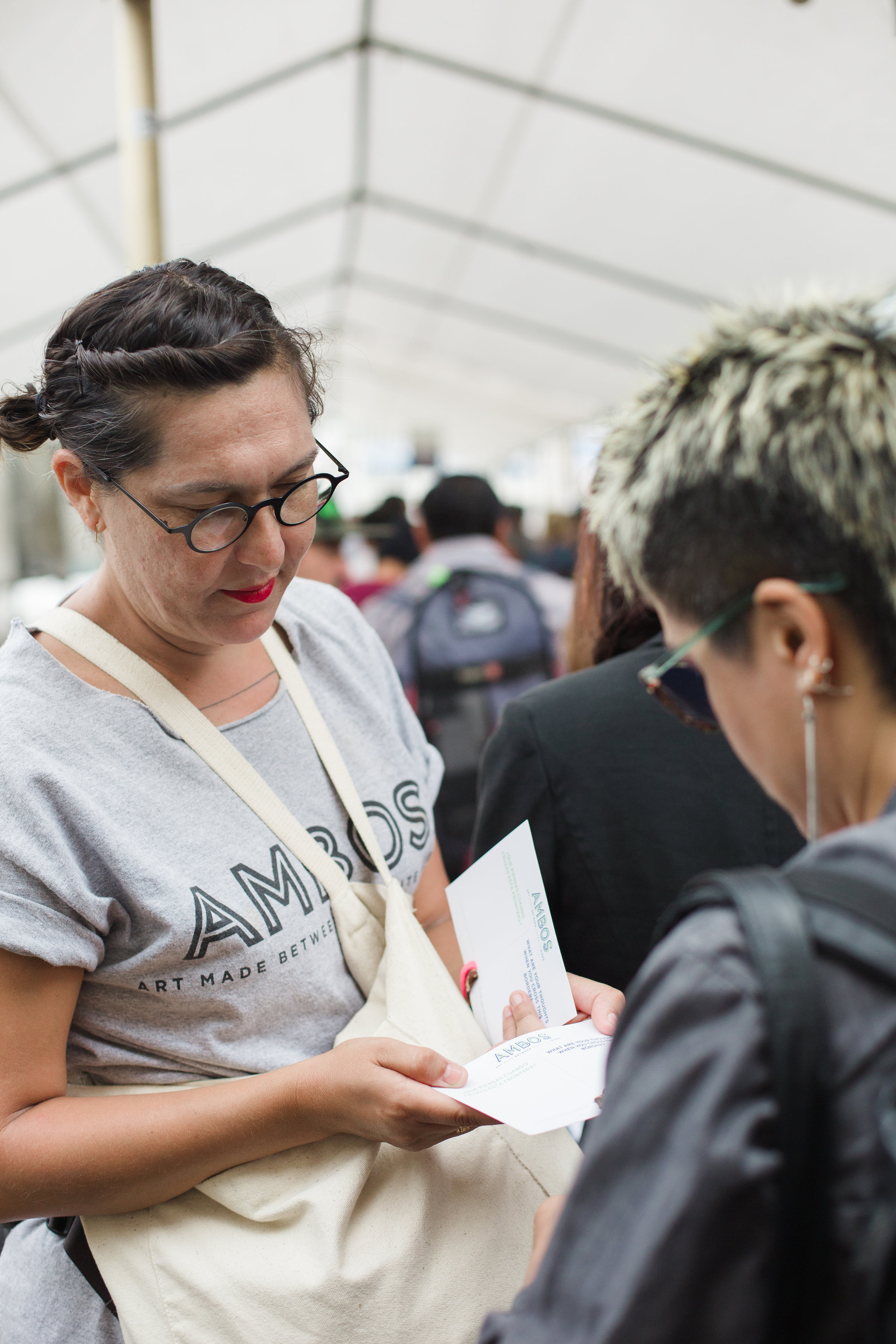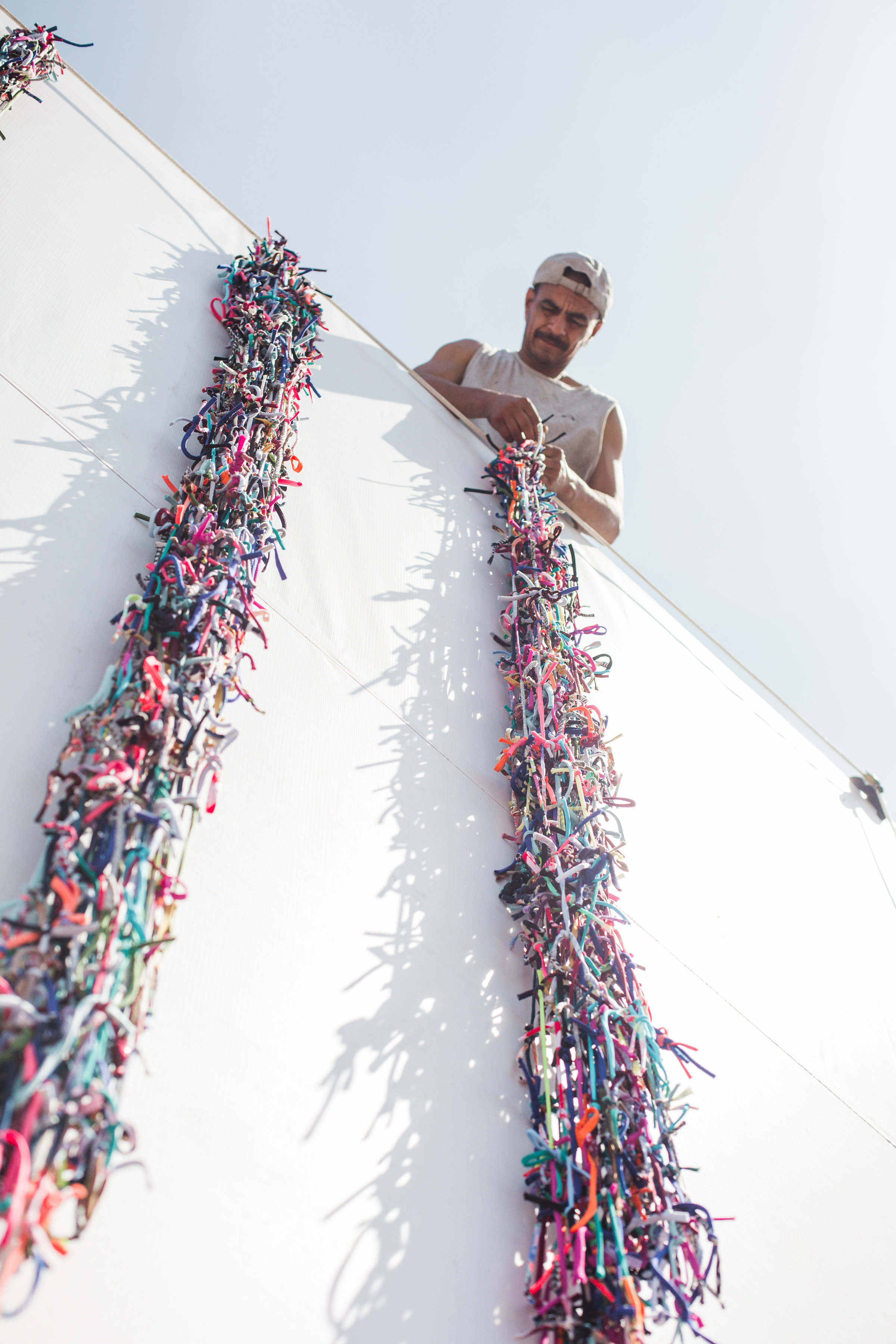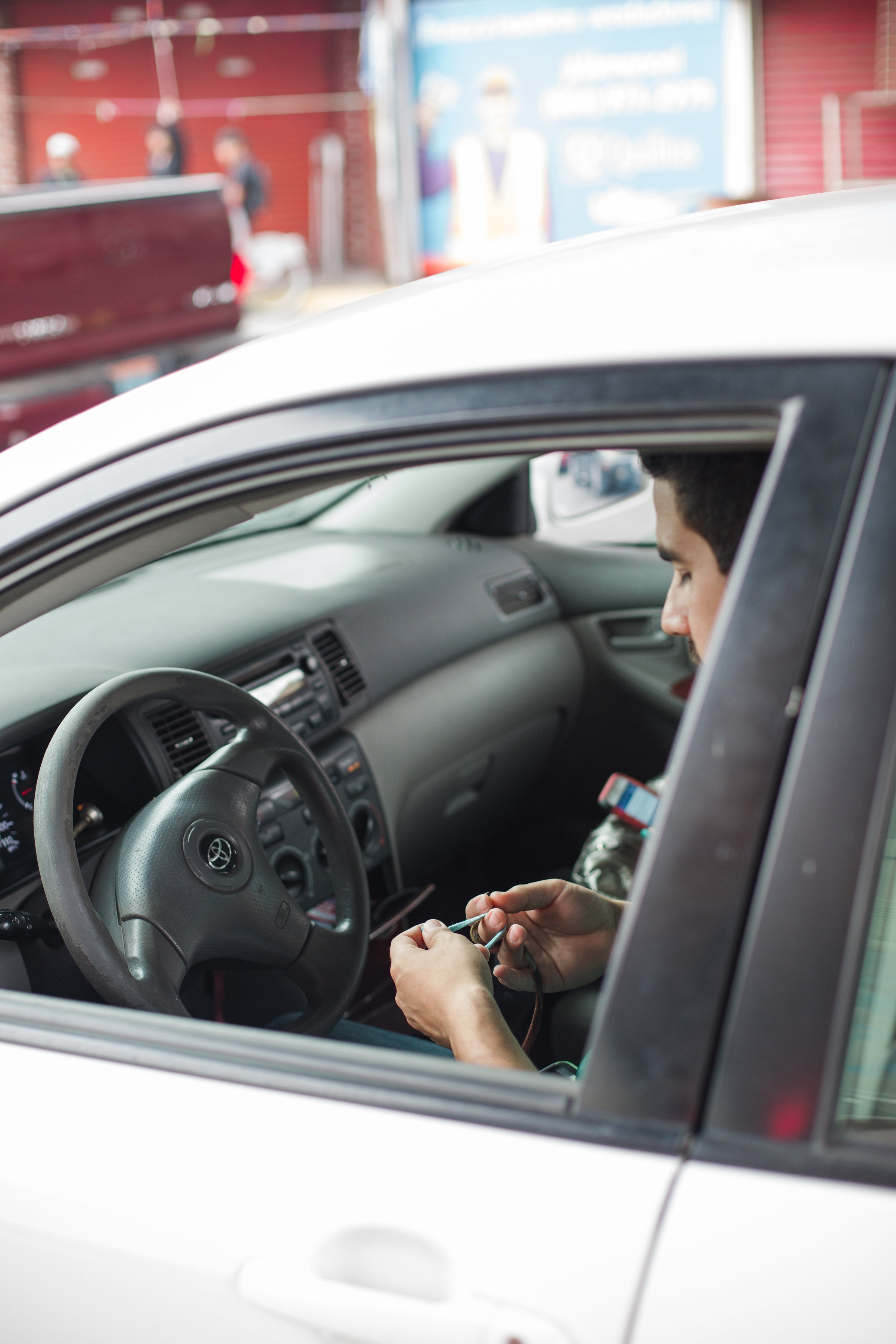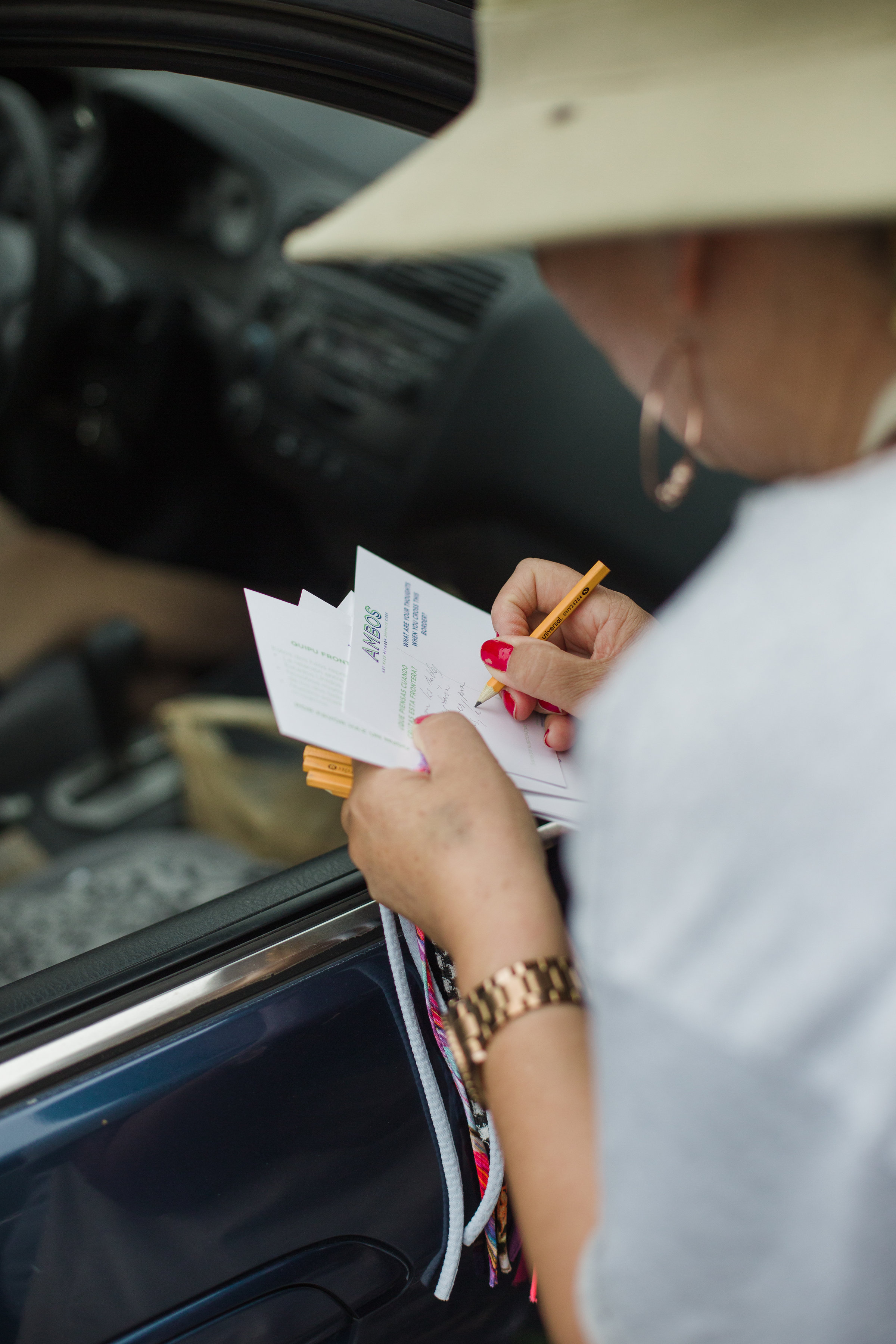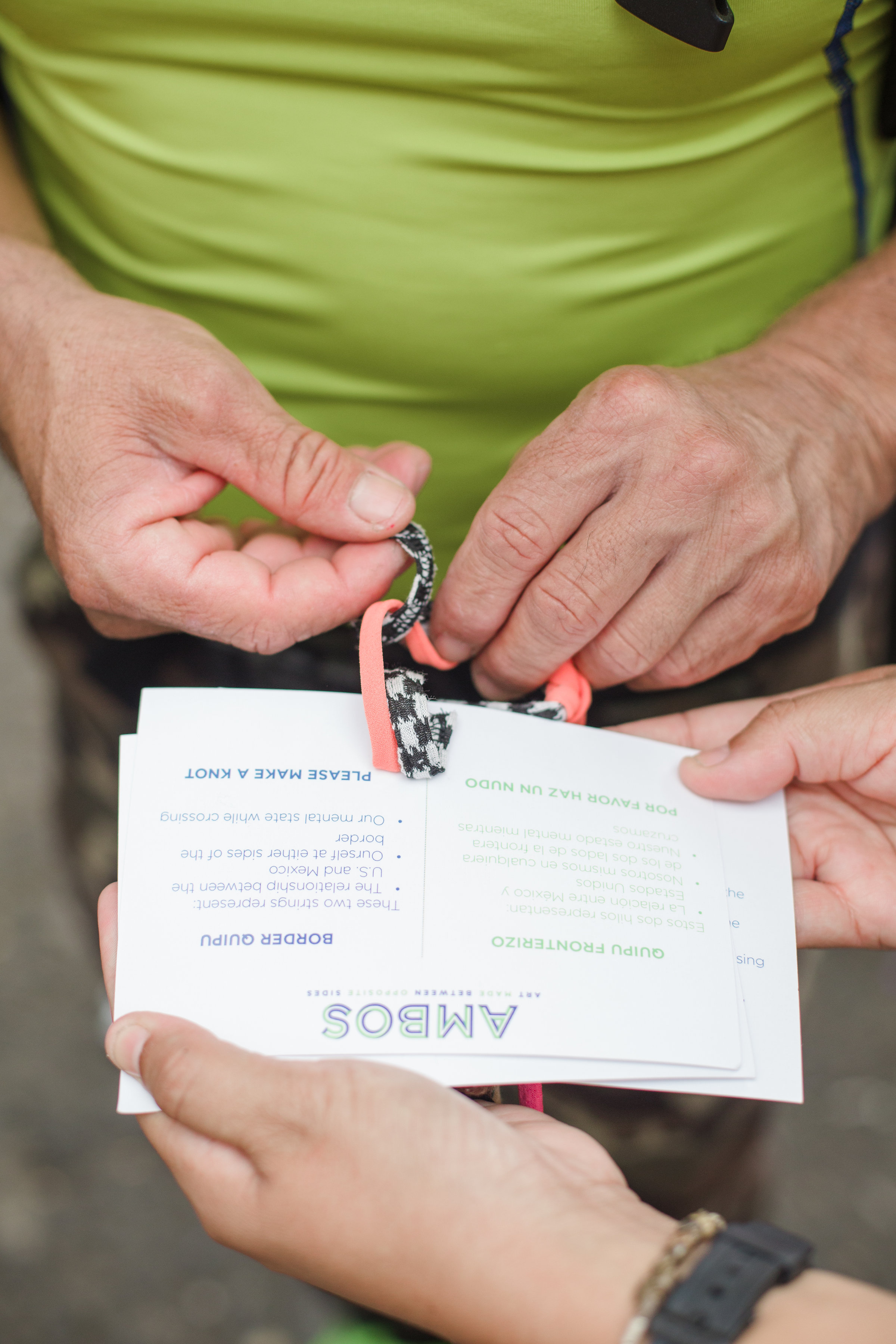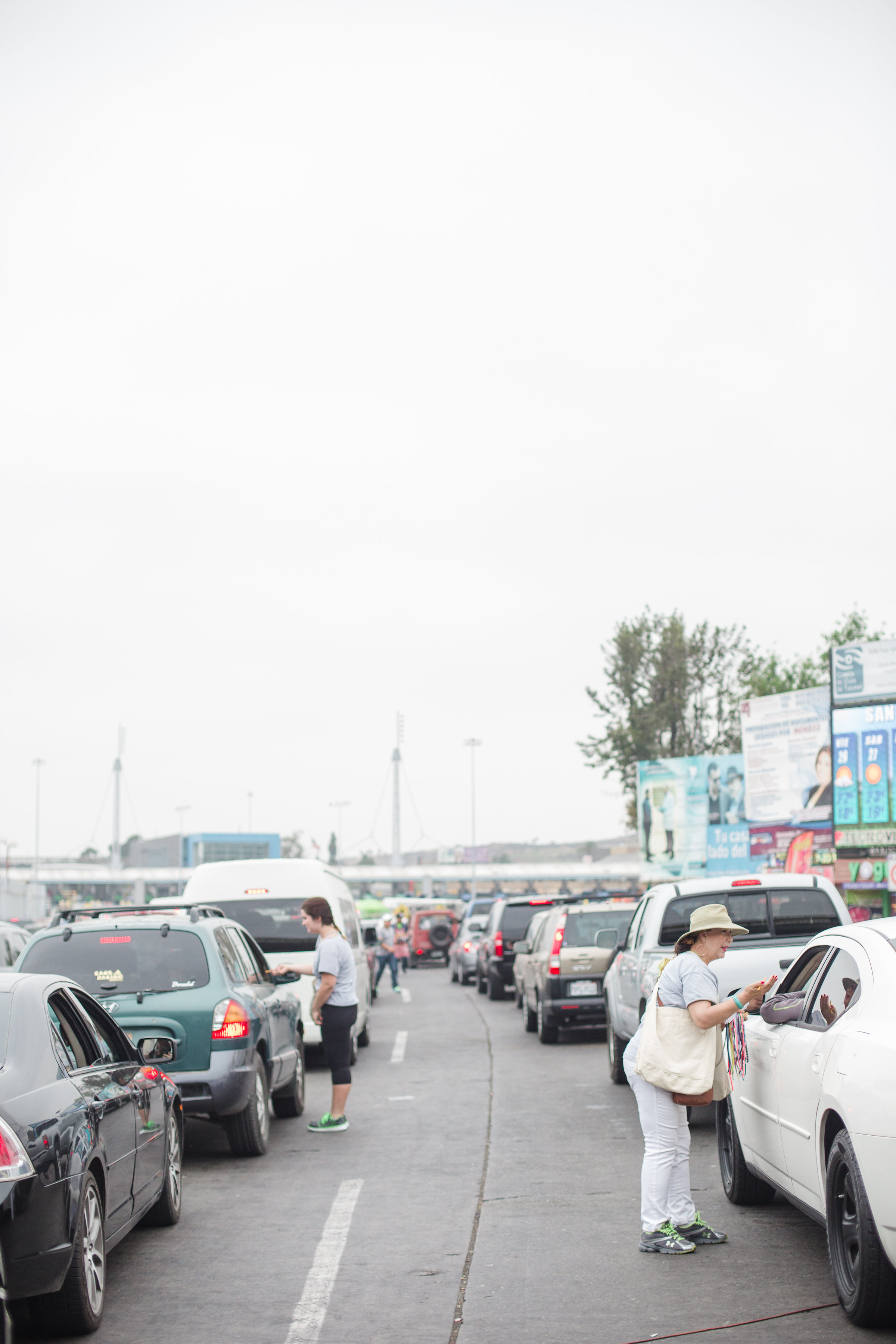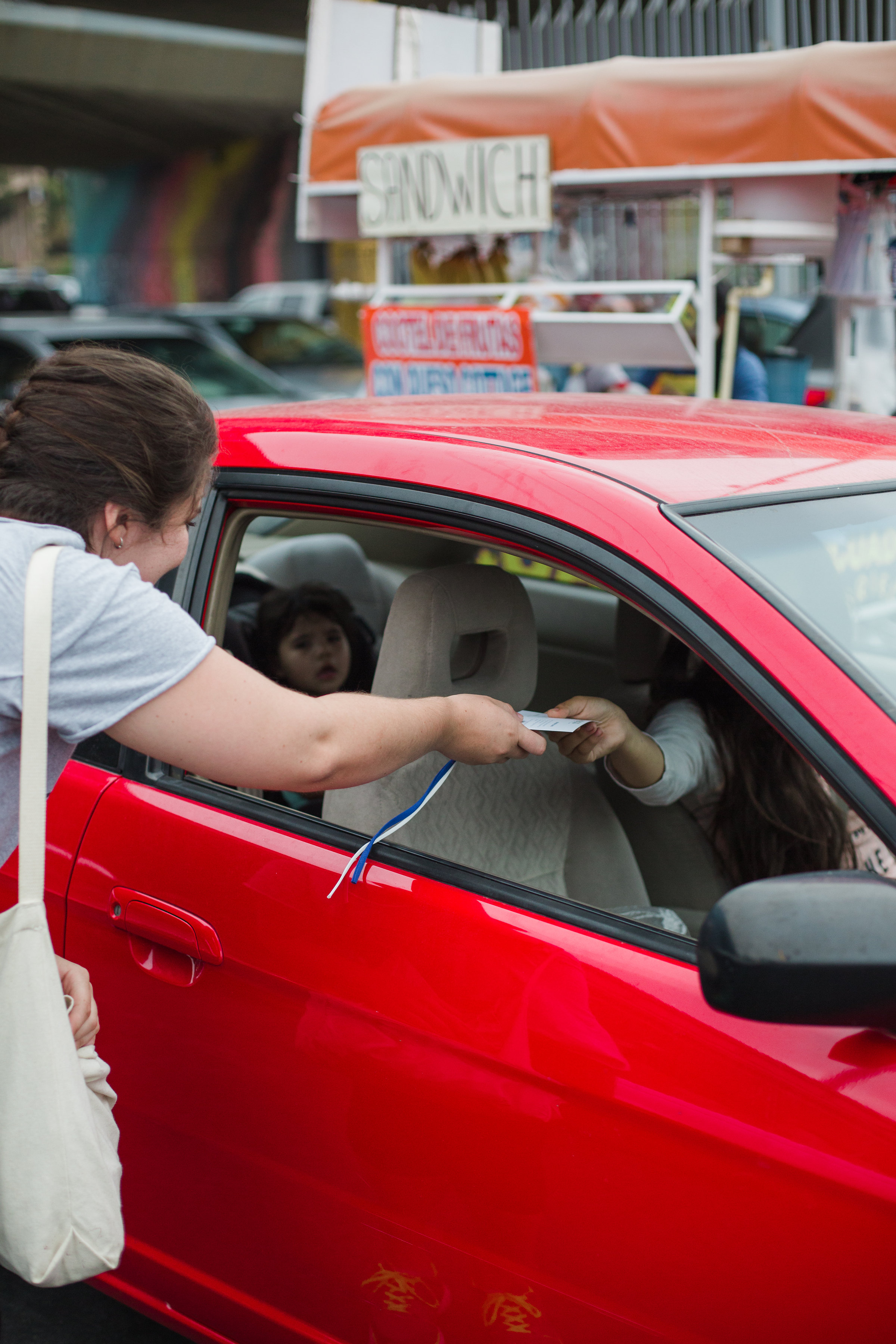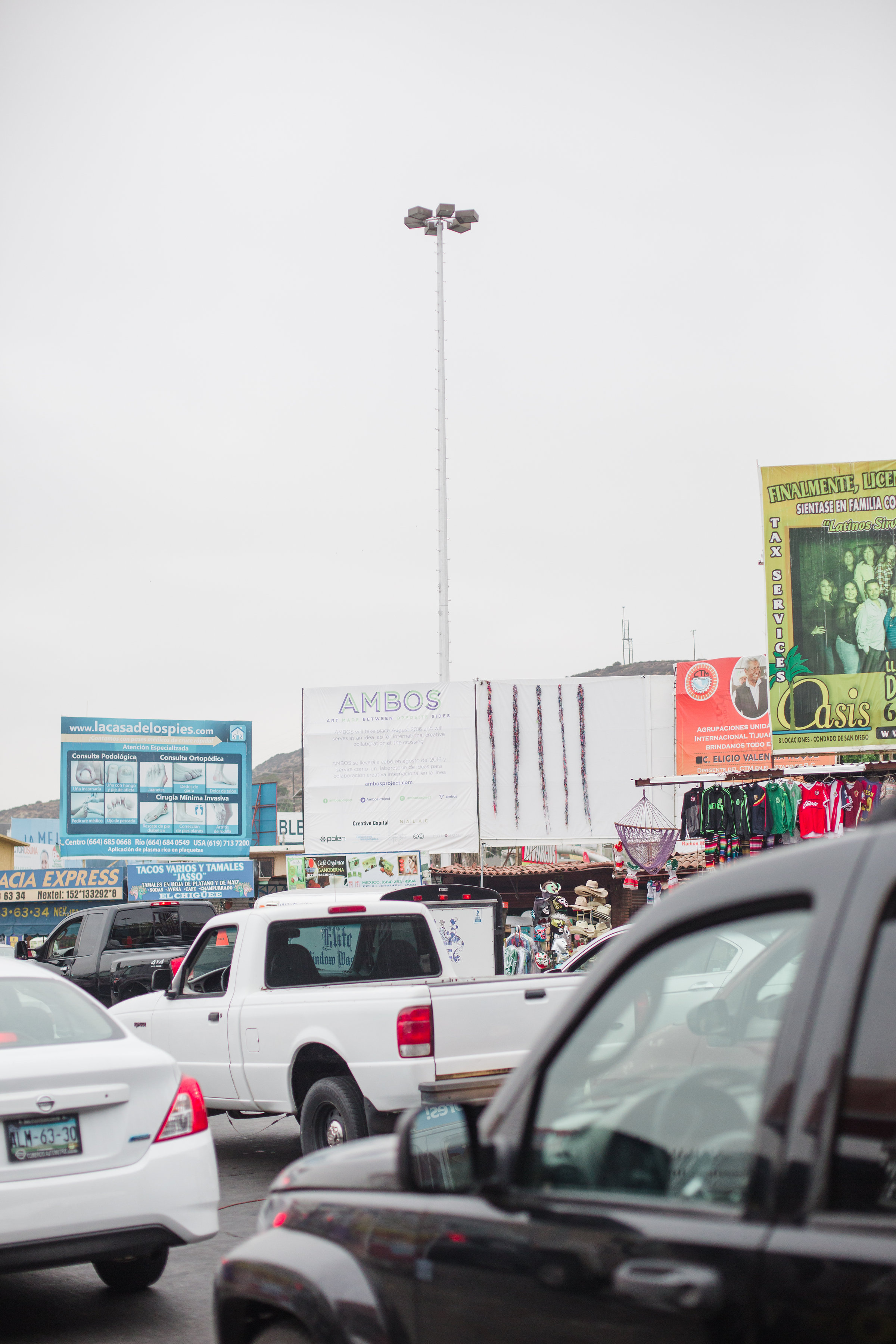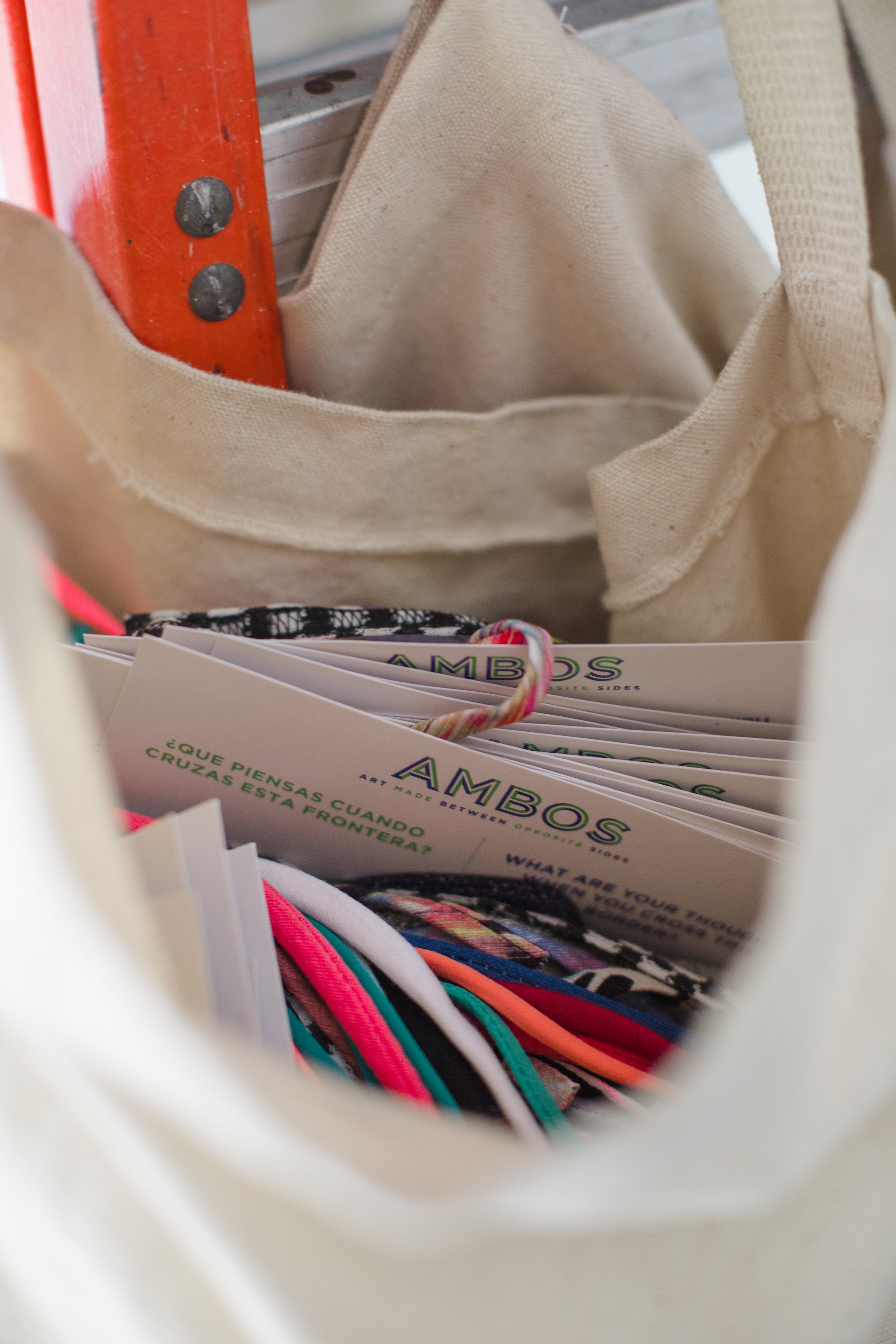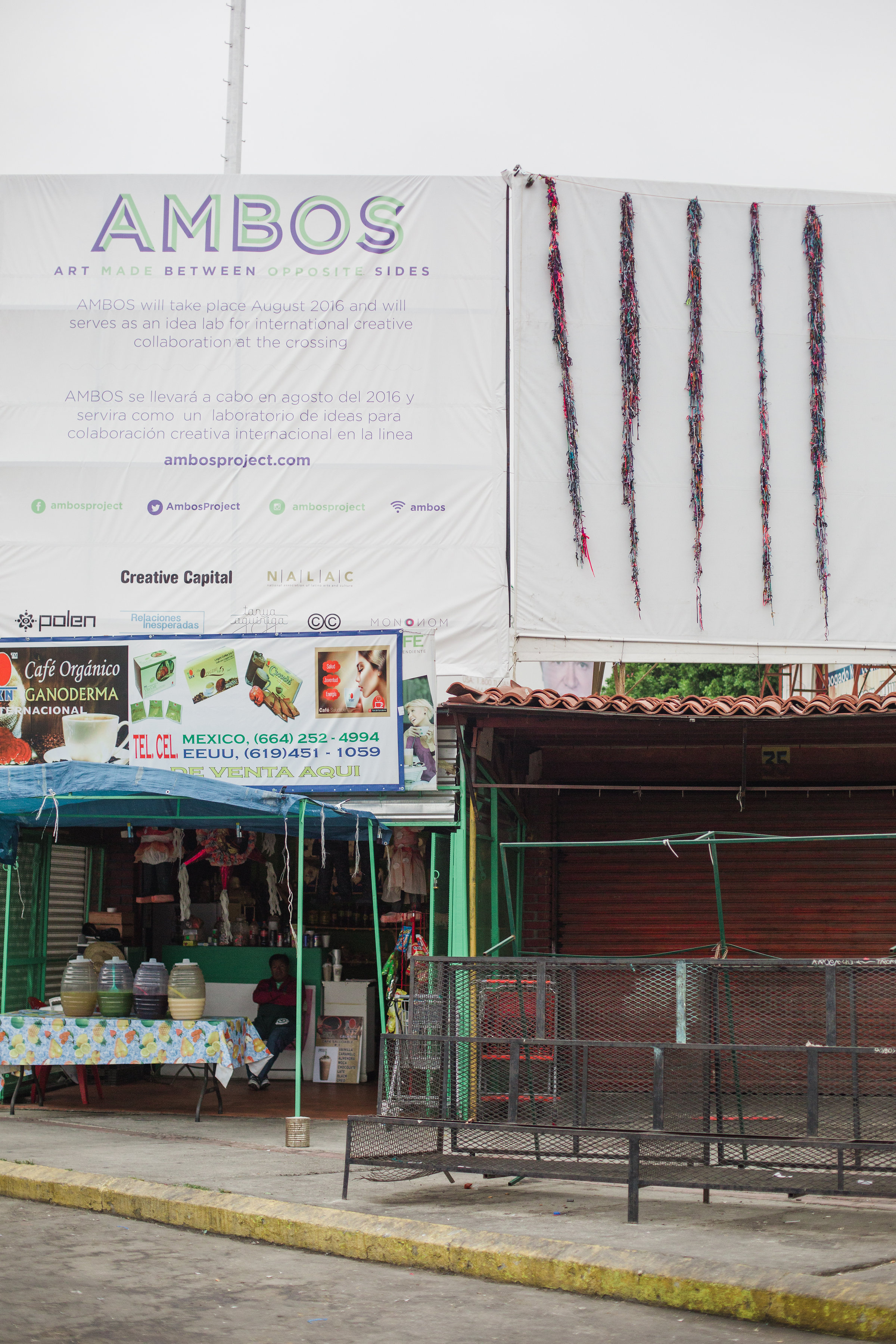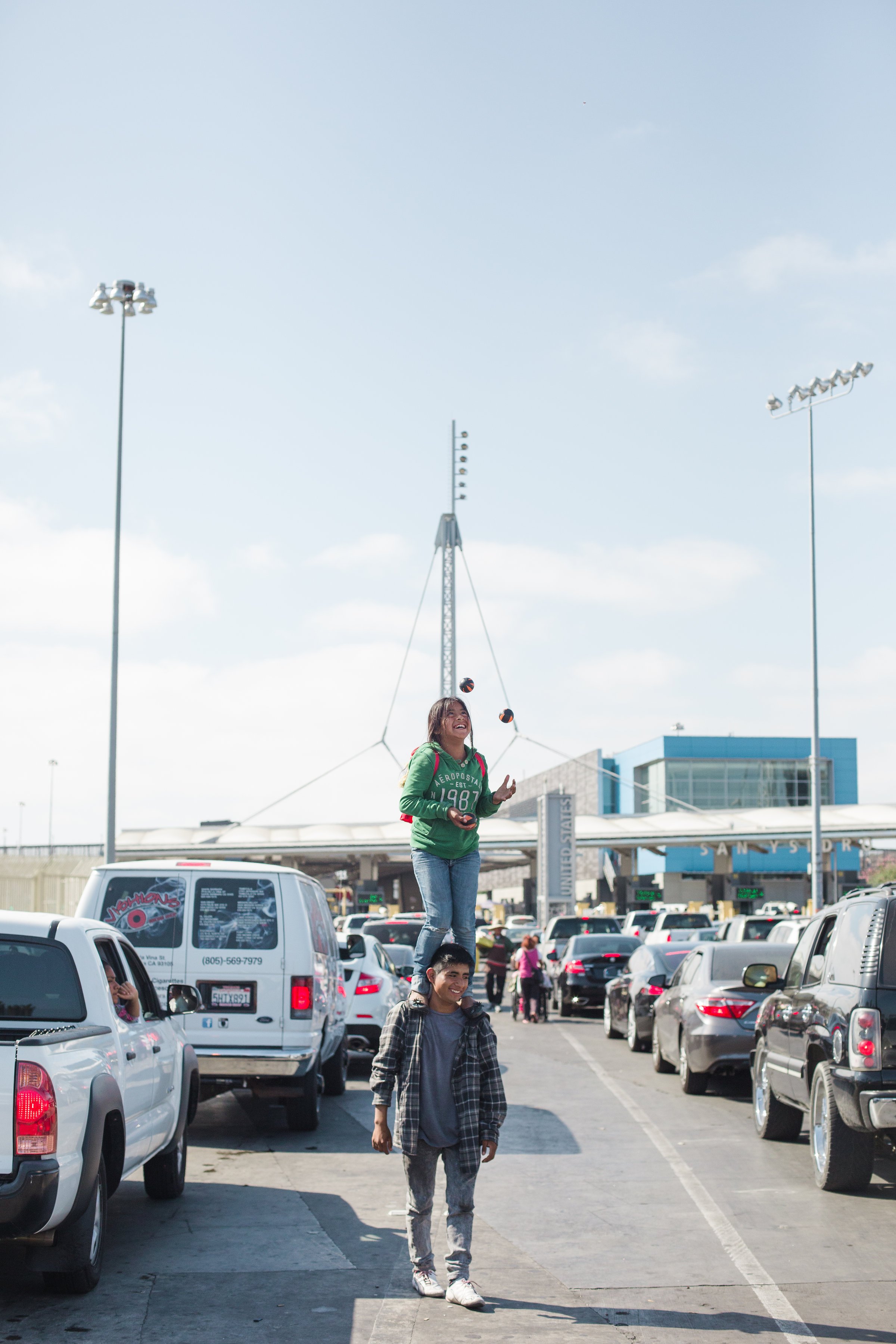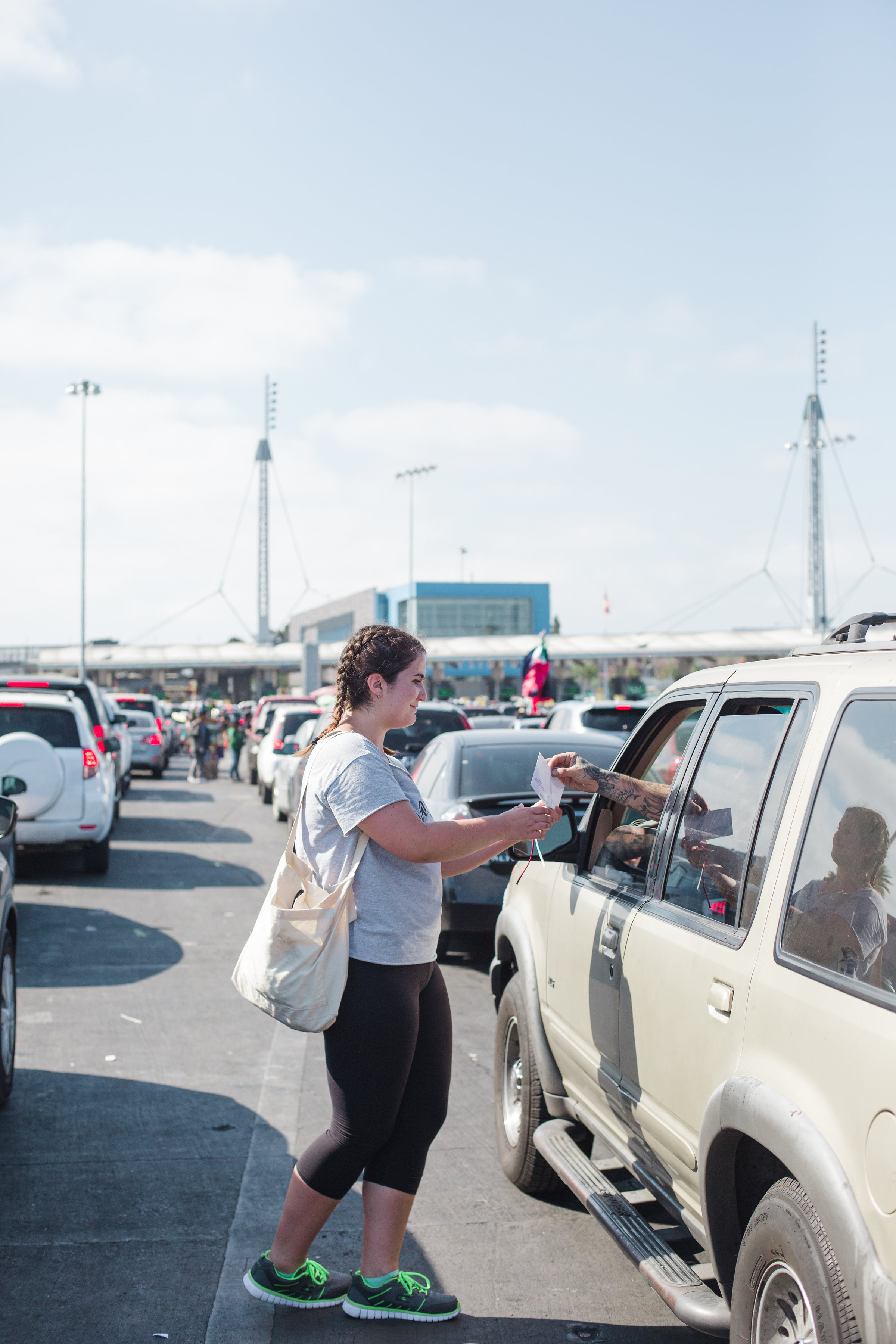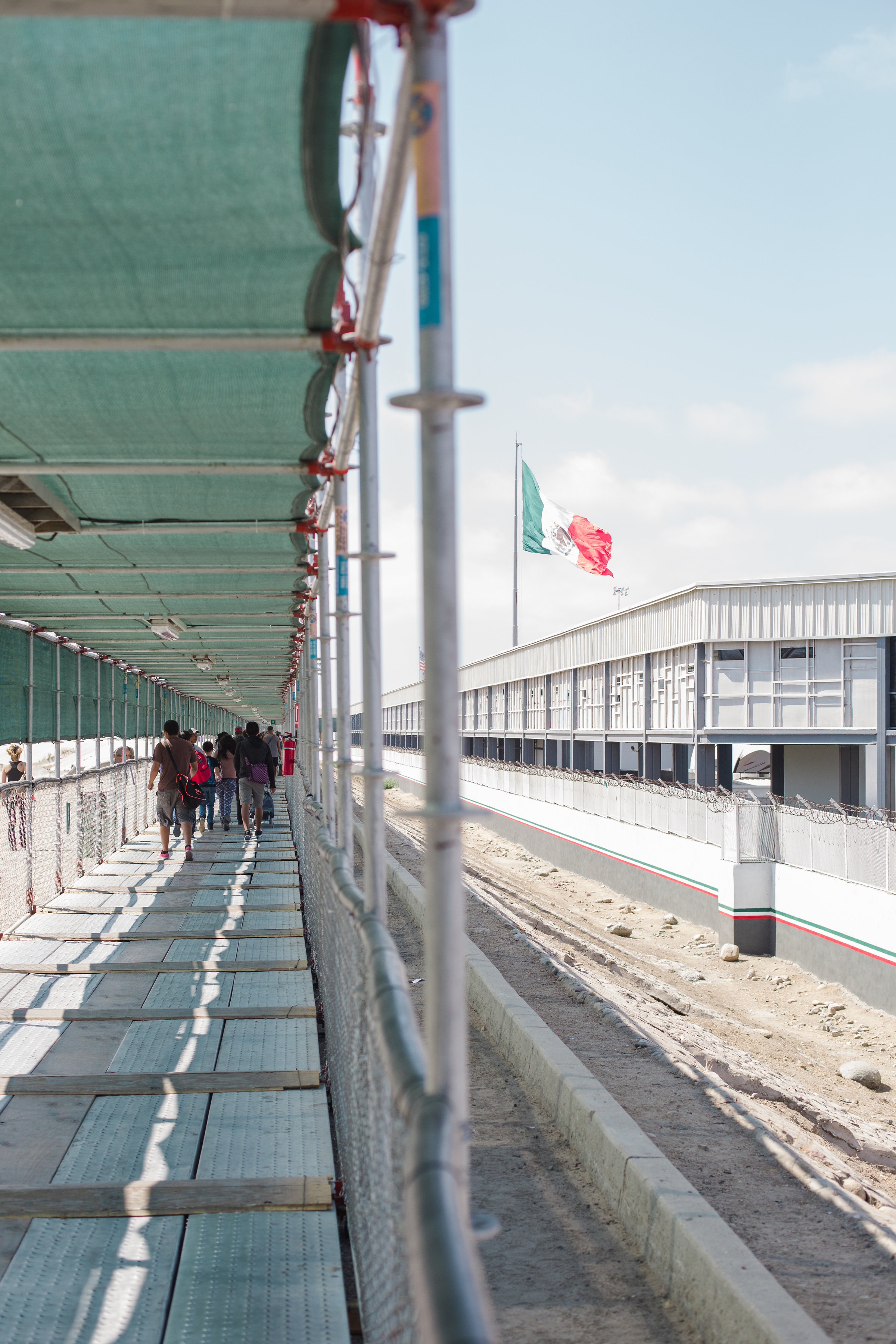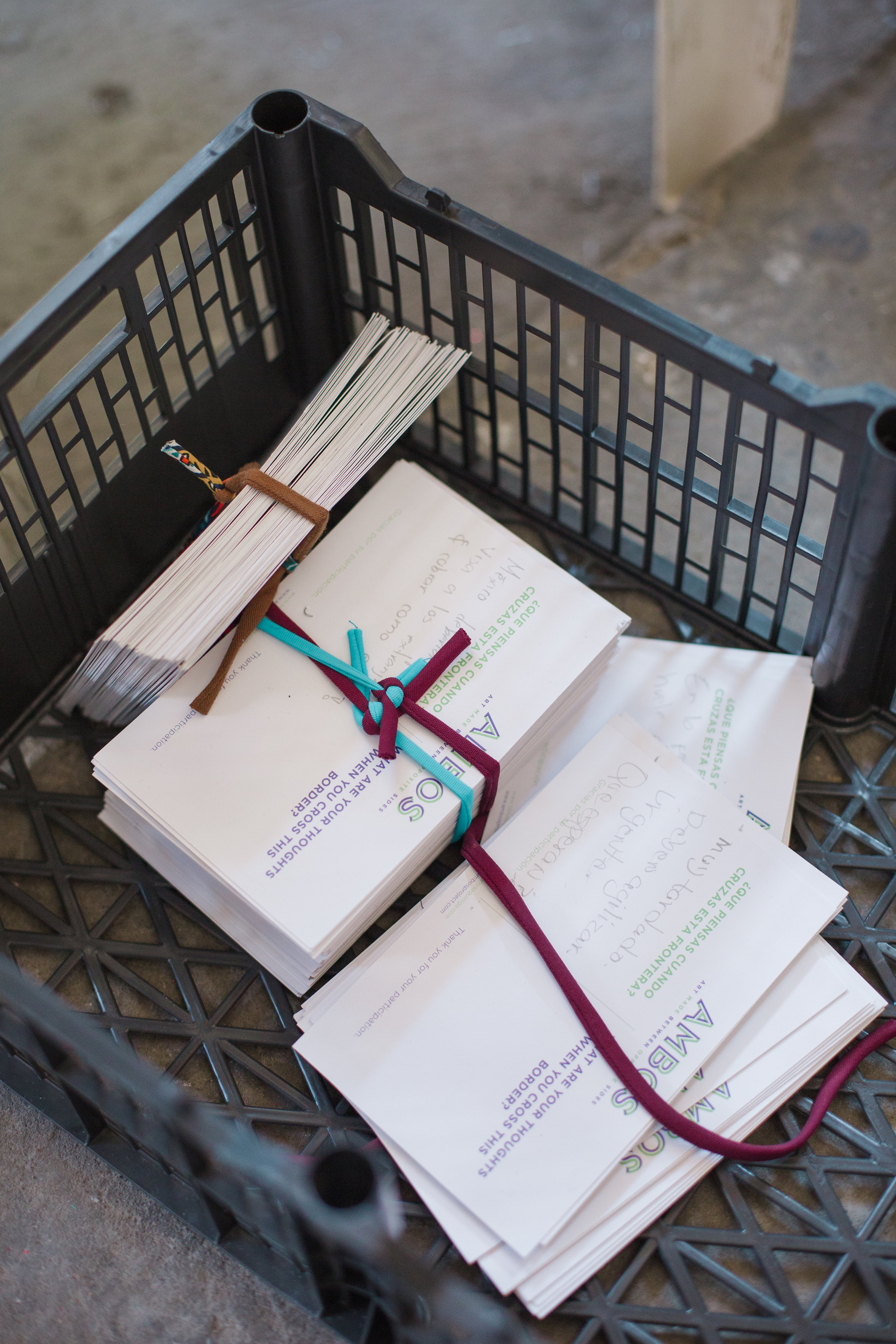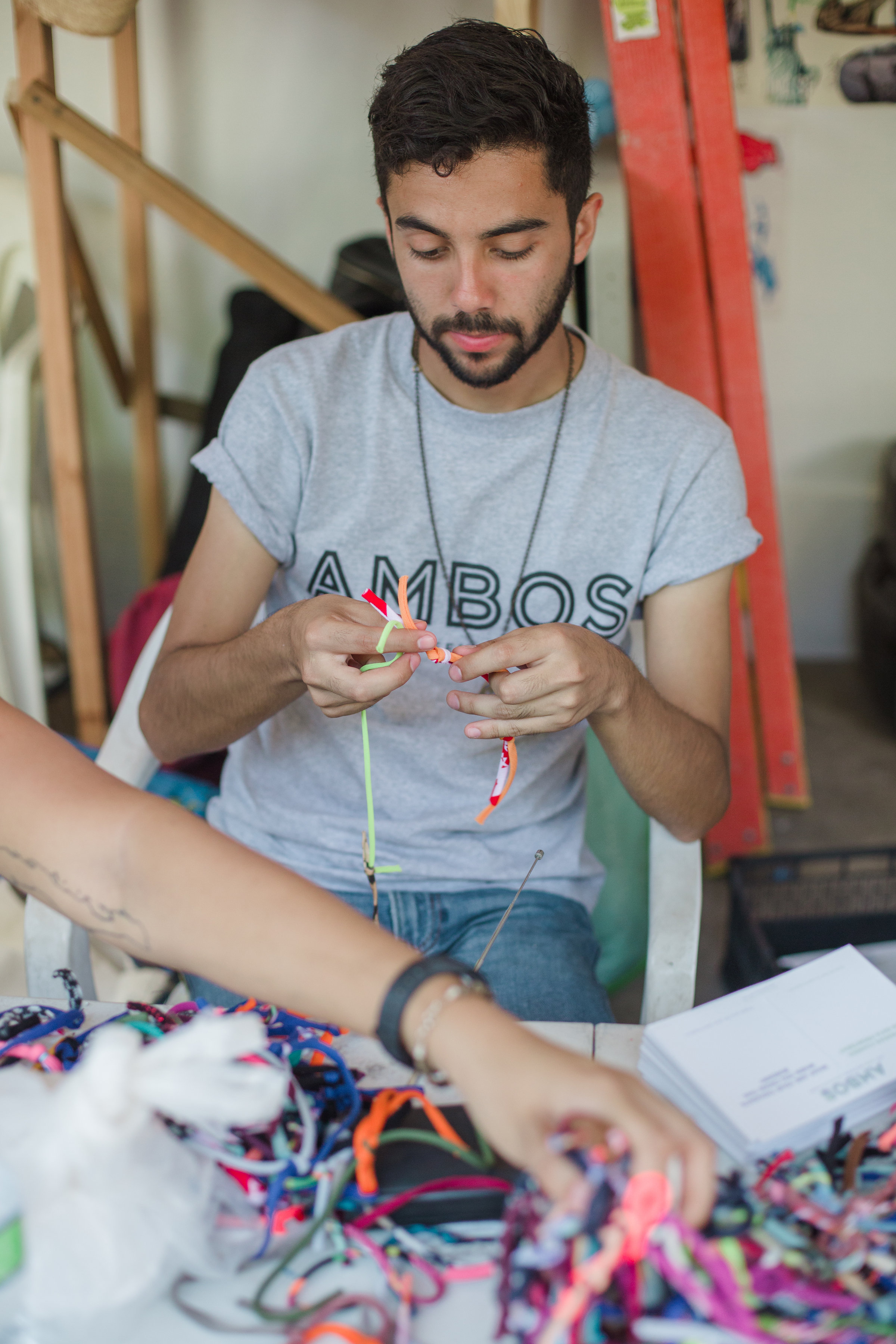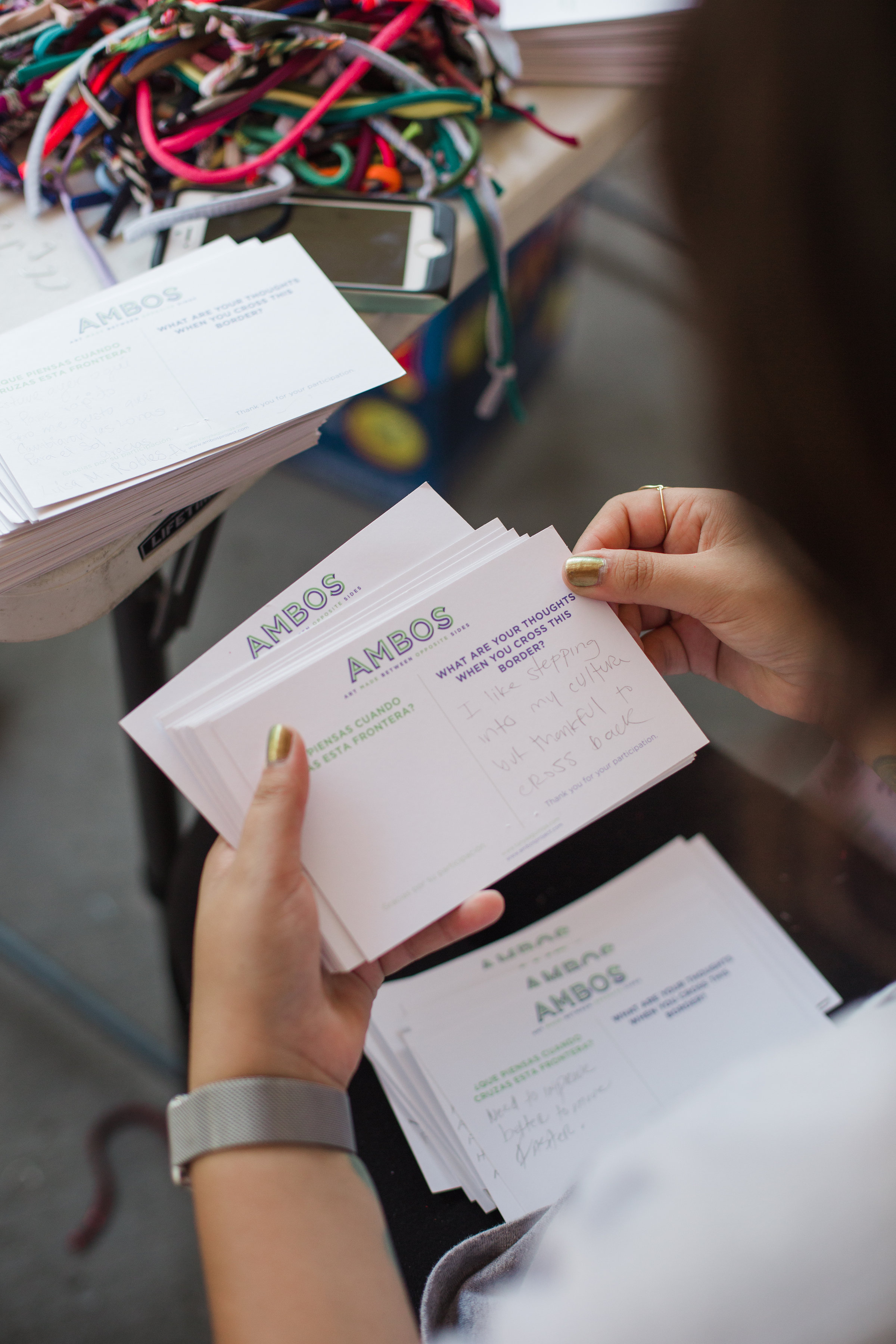 Locations pictured:
Tijuana, BC // San Diego, CA
Locations pictured:
Ciudad Juárez, CH // El Paso, TX   |   Agua Prieta, SO // Douglas, AZ   |   Nogales, SO // Nogales, AZ   |   Sonoyta, SO // Lukeville, AZ
Locations pictured:
Tijuana, BC // San Diego, CA   |   Tecate, BC // Tecate, CA   |   Mexicali, BC // Calexico, CA
THE AMBOS TEAM FOR TEXAS 2018
Cecilia Brawley es una artista y activista Chicana nacida en Rhode Island, actualmente reside en Los Ángeles. Cecilia está interesada en preguntas acerca de límites y enfocada en problemáticas de espacio, identidad y la creación de comunidad. Estudio Teoría Postcolonial y Estudios Feministas/Queer en Occidental College antes de unirse a AMBOS Project.
Cecilia Brawley is a chicana activist and artist born in Rhode Island and currently based in Los Angeles. Cecilia is interested in questions of boundaries and focused on issues of space, identity, and community building. She studied postcolonial theory and feminist/queer studies at Occidental College before joining AMBOS Project.
Natalie Godinez es maestra y artista criada en Tijuana, México, nacida en Chula Vista, CA. Ha trabajado con jóvenes de primaria y sus familias; enseñando arte, lecto-escritura y creando comunidad fuera del salón tradicional. Su práctica artística está enfocada en textiles y grabado con temas de memoria y su relación a objetos, lugares y lenguaje. Estudio Diseño Aplicado en San Diego State University.
Natalie Godinez is an educator and textile artist raised in Tijuana, Mexico, and born in Chula Vista, CA. She has worked with elementary aged youth and their families, building community in spaces outside the traditional classroom. Her art practice focuses on textile work and printmaking with themes of memory and its relationship to objects, place and language. She holds a Bachelor's degree in Applied Design from San Diego State University.
Tanya Aguiñiga founder and director of AMBOS, is a San Diego-born, Tijuana-raised, and LA-based artist whose work grapples with the multiple identities that result from growing up on both sides of the border. To find out more about her work, take a look at this segment of CROSSROADS featuring Tanya.
Tanya Aguiñiga, fundadora y directora de AMBOS, es una artista con sede en Los Angeles, nacida en San Diego, y creció en Tijuana. Su obra se enfrenta con las múltiples identidades que resultan del crecer en ambos lados de la frontera. Para saber más sobre su trabajo, mire este segmento de CROSSROADS que presentan a Tanya.
Gina Clyne is a photojournalist, shooting art projects and cultural happenings, collaborating with artists and non-profits to provide art documentation throughout the city of Los Angeles and beyond. Clyne studied Fine Art Photography at Otis College of Art & Design.
Gina Clyne es una fotoperiodista, fotografiando proyectos y actividades culturales, colaborando con artistas y organizaciones sin fines de lucro para proveer documentación artística a través de la ciudad de Los Ángeles y más allá. Clyne estudió Fotografía en Otis College of Art & Design.
GABRIEL YARINCE PEREZ SETRIGHT
Sydney Barnett is an Oakland based, queer artist and filmmaker. She is from the San Diego/Tijuana border, with family on both sides, and studied Film and Media Studies and Chicano Studies at UC Berkeley. She has worked on several short films and documentaries and is especially interested in DIY organizing, the queer experience, and youth education.
Sydney Barnett es una artista y cineasta queer basada en Oakland. Ella es de la frontera de San Diego/Tijuana, con familia en ambos lados. Estudió Cine y Estudios de Medios y Estudios Chicanos en UC Berkeley. Ha trabajado en varios cortometrajes y documentales y está especialmente interesada en activismo independiente (DIY), la experiencia queer, y educación para jóvenes.
Gabriel Yarince Perez Setright is an activist, artist, writer and historian from Nicaragua. They studied Philosophy and Psychology at Warren Wilson College in Asheville North Carolina. Gabriel, sometimes known Miranda, co-runs a community cultural center called La Rizoma. Gabriel's artistic and activist work focuses on the critiquing Neoliberalism while problematizing the revolutionary history of Nicaragua.
Gabriel Yarince Perez Setright es un activista, artista, escritor e historiador de Nicaragua. El estudio psicología y filosofía en Warren Wilson College en Asheville, Carolina del Norte. Gabriel, a veces conocido como Miranda, co-maneja un centro cultural comunitario llamado La Rizoma. El trabajo artístico y activista de Gabriel se enfoca en criticar el Neoliberalismo mientras se problematiza la historia revolucionaria de Nicaragua.
Diana Ryoo is an arts and design educator and activist from San Jose, CA, who believes in the significance of creativity as a tool for social change. Informed by her background in Product Design, she will continue to investigate how history and memory of objects impact interactions amongst individuals and within larger communities as an MFA candidate for RISD's Art+Design Education program.
Diana Ryoo es educadora de arte y diseño así como activista de San José, CA, quién cree que la creatividad es una herramienta significativa para el cambio social. Informada por su experiencia en Diseño de Productos, continuará investigando cómo la historia y memoria de objetos impactan las interacciones entre individuos y comunidades como candidata a la Maestría de Educación en Arte+Diseño en Rhode Island School of Design.
Jackie Amézquita is a Los Angeles based artist and designer, born and raised in Quetzaltenango, Guatemala and who migrated to the United States in 2003. She studied Fine Arts at Art Center College of Design and Visual Communications at Los Angeles Valley College. Amézquita is interested in the psycho-socio-political interactions of communities and how these influence and transform a socio-geographical system.
Jackie Amézquita es una artista y diseñadora basada en Los Ángeles, nacida y criada en Quetzaltenango, Guatemala, quién migró a los Estados Unidos en el 2003. Estudió Bellas Artes en Art Center College of Design y Comunicaciones Visuales en Los Angeles Valley College. Amézquita está interesada en las interacciones psico-socio-políticas en comunidades y en cómo estas influyen y transforman el sistema socio-geopolítico.